Craiglockhart
Complete nursery care from 0-5 years
Opening hours: 8am-6pm Mon to Fri


One Craiglockhart Terrace
Edinburgh EH14 1AJ
T: 0131 443 8701
craiglockhart@littlemonkeysnursery.com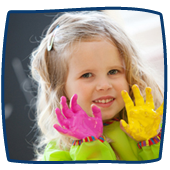 Little Monkeys Craiglockhart
Set back from a bustling corner site next to the Union Canal on the Colinton Road. We can watch the busy waterway from our big bay windows and enjoy our walks to feed the ducks, cheer on the rowers and spot a barge or two.
"The staff at Little Monkeys are just head and shoulders above any I have come across"
We found our second nursery seven years ago, and fell for it straight away. Craiglockhart's setting gives us the opportunity to explore the local woodland, climb Craiglockhart Hill, feed the ducks and go for fantastic walks along the canal tow path – properly supervised!
The nursery itself sits proudly on a corner site with a lovely big and secure corner garden. The babies have their own little outdoor courtyard which gives them the opportunity to spend lots of time in the fresh air.