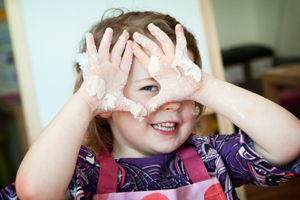 Why choose us?
Our nurseries open at sensible times..
Each nursery opens at times to suit its own location so you and your child don't have to feel the stress of rushed drop off and pick up times.
We are owner run.
Our Directors - Grace Kerr and Valerie Broomfield have cared for Little Monkeys Nurseries on a full time basis since the first one opened, and continue to do so today.
We are local.
Little Monkeys is a small family of Edinburgh nurseries. We have local knowledge of the areas our nurseries are situated in and indeed the communities surrounding them.
We are proud of our team.
As well as a wealth of visiting specialist teachers we have a strong and experienced staff base, very involved parents and wonderful children! We value their role in making Little Monkeys the great place it is, and have a very low rate of staff turnover.
We provide nappies, wipes and individual creams.
Included in the set price. We know what it's like to remember at the 11th hour that you have run out.
We provide home cooked food.
Each nursery has its very own cook dedicated to creating healthy, nutritious meals, fresh on the premises. We cover breakfast, lunch, dinner and snacks, on a three week rolling menu that changes seasonally.
We go on great adventures.
We arrange trips to great places and special events appropriate to your child's age group and stage of development.
Nursery Checklist
To help you pick the right nursery for you and your child.